English - Czech translation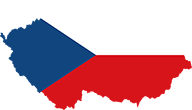 The Czech language is a member of the Slavic language family and is spoken by about 10 million people, primarily in the Czech Republic. It is the official language of the Czech Republic and is also spoken by Czech diaspora communities around the world.
Czech is a sophisticated and expressive language with a rich literary past, as well as complicated grammar and pronunciation. It has a lengthy history and has been impacted by languages like as Latin, German, and others.
Due to its peculiar features and lower usage than other languages, Czech poses certain translation challenges. It is critical to work with a translator who is fluent in both Czech and the target language to ensure accurate and effective communication.
It is critical to conduct extensive research and choose a translator who has expertise and ability in the specific type of translation required, whether technical, legal, or any other sort of translation. Instead you may contact us for your Czech translation requests and obtain a satisfactroy result through our services in this language.
Accurate and rapid translation is critical in eliminating linguistic and cultural barriers and encouraging understanding and collaboration, whether for business, education, or personal purposes.
Prices for Czech translation

General Content Texts

English » Czech: 0.06875 USD
Czech » English: 0.06875 USD

Our prices are for every 1000 characters in the target text. Pricing can be changed according to the subject, length and duration of your translation. We provide services in Czech with a total of 1 translators and a daily translation capacity of approximately 20,000 characters.

Click here to browse our prices in other languages and areas of expertise.
Approximate Price Calculation
To find out the translation price, specify the details below and click the "Calculate" button.
Czech Sample Translations
Translator: TUBA Ö.
Title: Court order
Language pair: Turkish« »Czech